HOW TO: BUY AN OUTFIT OFF PINTEREST
Finding outfits for an occasion isn't always easy- in fact, the last minute stress often out weighs the fun. Advice to you- plan ahead, on Pinterest. I'm always looking to others for inspiration, and while a Tumblr feed looks pretty and all, Pinterest is, the less-cool, more -organised older sister.
When one has an occasion to dress for, its about finding something different and finding something you feel comfortable in (and wear again). I'll spend a good 15-minutes scrolling the suggested pins, until its the one-out-of-a-million that catches your eye and you're caught in the dark hole of content. Bye.
It suddenly went from broad and boring to so specific you forgot what you were actually looking for. This is a good thing, it cuts down options and you start to see a trend emerge. Ignore the price tags, and fashion week reposts that you can't afford, but instead use the colours, the cuts and the assembling of outfits as a basis.
My Example: Start a new board and fill it to the brim with options, my goal being Alexa Chung's A-line skirt and yellow skivvy. She's either wearing a Valentino skirt or 'vintage' designer brand that would break the budget, so go-to tabs are opened: Topshop, Reformation, Brandy Melville, Urban Outfitters and Other Stories to name a few.
Below, are the options I found, each for under $100.00, and all items that will sit top of my pile to wear again. I'm not sure what's more satisfying, my bank balance or the trend of a turtle neck that I will never-ever stop wearing (even if it's canary yellow).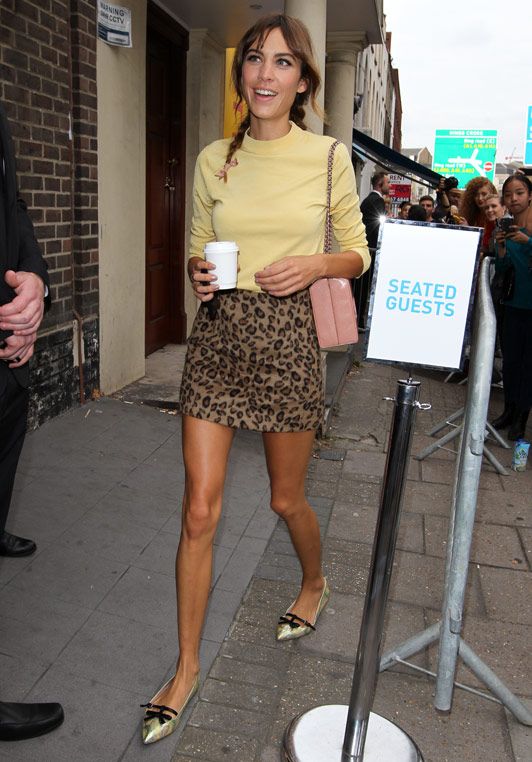 Leopard Print A-line and Canary Yellow Skivvy as seen on Alexa Chung.
In a nutshell and for the Millennials that didn't actually read the above:
STEP 1: Scroll your suggested pins page until you have the urge to 're-pin'
STEP 2: After the 're-pin' scroll to see 'similar' pins- you've now narrowed down your trend for the night
STEP 3: Pin it to your newly-created board, pick an 'icon' and start your e-comm search.
STEP 4: 'Add to Cart' three new pieces that resemble the outfit in your mood board.
In a nutshell, keep calm, and copy.